Moroccan Oil has been creating a massive buzz in recent years with thousands of people swearing by the product for their own hair care management. It has developed a cult following within the industry, both for stylists and clients alike. But what is Moroccan Oil and how does it work?.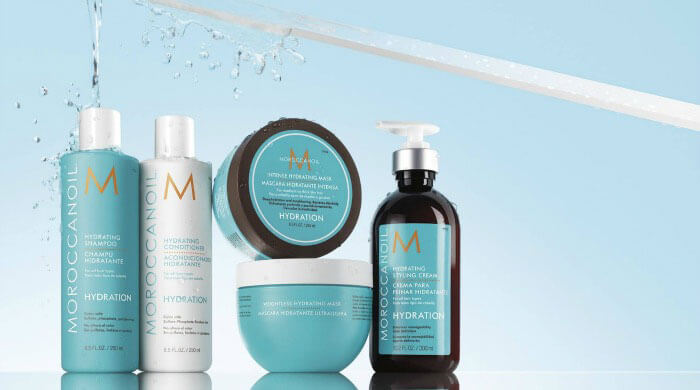 History
Moroccan oil is another name for argan oil and is made from the kernels of the argan tree fruit that grows almost exclusively in Morocco. This oil is one of the rarest in the world due to the small supply and the limited growing area. Hence the high price and the hype. Traditionally, the oil is produced by hand. First the soft pulp is stripped from the nuts, which are then laid out in the sun to dry. Stones are used to crack open the dried nuts so the seeds can be removed. Next, they're gently roasted to give the oil a rich, nutty flavor. A little water is added to the roasted seeds and they are ground into a thick paste which is squeezed by hand to extract the oil
Moroccanoil co-founder Carmen Tal was miles from home when, after a routine color service gone awry, she experienced the powerful Moroccanoil Treatment while traveling. As she witnessed the transformation of her hair instantly revitalized. Going from damaged to shiny, smooth and manageable. She went on a quest to share the magic of this argan oil hair treatment with women across the globe.
What began a decade ago as a single, revolutionary product that pioneered a new category in the beauty industry, has grown into a full line of hair and body products, all infused with nourishing antioxidant-rich argan oil, signature to the brand. Dedicated to providing the highest quality hair and body products, Moroccanoil has grown into an iconic beauty brand. "We are thrilled to be celebrating ten years of oil-infused innovation and today our goal remains unchanged—to empower beautiful transformations and create products that inspire confidence," says co-founder Carmen
Benefits
Moroccanoil was inspired by the transformative power of argan oil. Naturally occurring with a high content of antioxidants, essential fatty acids and vitamin E, argan oil has become known as liquid gold for its ability to naturally boost and moisturize both skin and hair. Why do use recommend Moroccanoil at Iron and Ivy? It has a whole heap of benefits such as:
Prevents Split Ends: Argan oil in the product is absorbed into the hair shaft to strengthen the hair strand and reduce the likelihood of split ends.
UV-Protection: Argan oil is also a powerful UV protector and will help shield your hair from the effects of the sun.
Frizz Control: Products such as Moroccanoil's Frizz Control spray are specially formulated for all hair types to control frizz. Infused with argan oil and Vitamin E with weather-resistant properties, Moroccanoil works to keep hair calm and manageable in damp or dry environments.
Hydrated, Revitalised Hair with Increased Elasticity: Moroccanoil was inspired by the transformative power of Argan oil. Rich in vitamins, minerals and antioxidants, Argan oil helps Moroccanoil hydrate and soften your hair while also increasing elasticity and restoring shine and health to dull, lifeless hair.
Speeds up Blow-Drying Time: Moroccanoil detangles the hair to improve manageability.
Superior Conditioning: Moroccanoil can be used with dry or wet hair to condition dry ends.
Even Colouring: Moroccanoil helps even out the hair's porosity, allowing colour to be applied more evenly. You can also add Moroccanoil to your colour mixture for ultimate protection, shine, elasticity and maximum absorption of colour.
Summary
I love Moroccanoil and i'm proud to recommend it within the studio. I think its a fantastic product with a whole heap of benefits (including that it smells amazing!) its certainly a great addition to have to keep your hair hydrated and restoring a healthy shine to your hair.
Love
Lauren McMurray